Hairette is one of the only female character in the Hairy Worm series. She is Hairy Worm's 'involuntary girlfriend'. She likes him but he doesn't like her. She was the disguise of choice for Haggis in Episode 3.
Appearance
Edit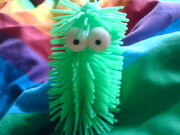 Hairette is literally just a green version of
Hairy Worm
. The only difference is is that she is slightly smaller than he is.
Characteristics
Edit
Hairette is quite a kind creature, but is also an annoyance sometimes. She won't fight back very much and isn't very strong,
In Media
Edit
Hairette first appeared in Episode 3, where she was the disguise of Haggis. Since then she has been reappearing in various episodes, mostly causing an annoyance to Hairy Worm. Other times, she proves to help him by telling him about dangers and other things.
In Episode 6, she was given to Evil Voiceover, (because Hairy Worm thought she was 'a Haggis') who wanted to set her on fire and dip her in his mayonnaise. She obviously did not die, for she was seen in episodes after.